The 5 Best European Summer Destinations to Explore in 2022
Now that many European travel restrictions are behind us, travel lovers the world over are scrolling social media in search of inspiration for their next summer European vacation. And, while a host of hotspots have popped up in the past few years promising a new look on contemporary European summer stays, the "classics" are still our favorite suggestions thanks to their sun-soaked sights, ease of access, and a near endless array of museums to browse, beaches to sunbathe on, historic places to visit, and restaurants to delight in.
Ranging from beach-centric summer European locations like Greece, Italy, and the South of France to still-sunny escapes in The Nordics and the UK, this list of the top five European summer destinations covers the continent from the Arctic Circle to the Mediterranean's shores. So make the most of your next summer getaway and start planning your 2022 European vacation itinerary today.
5 European Summer Destinations to Explore in 2022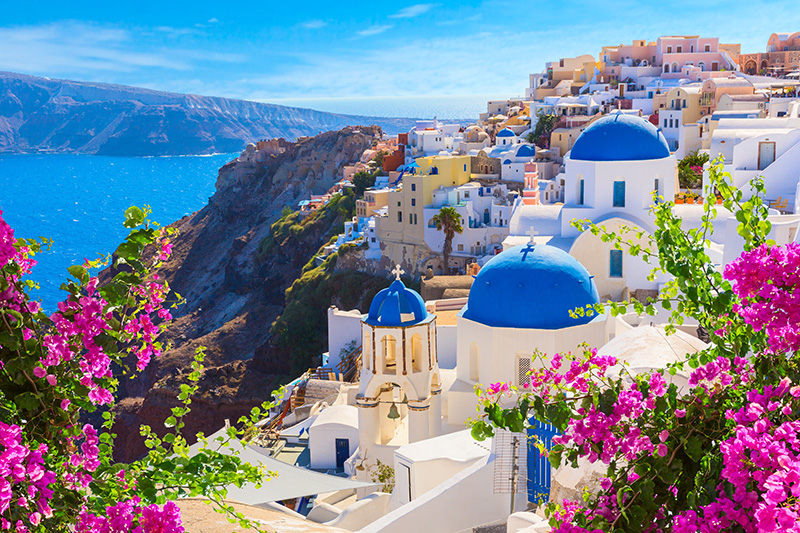 Surrounded by the electric blue waters of the Aegean Sea, Greece's location in Europe's extreme southeast bestows upon it a climate that provides picture-perfect weather all summer long – making it one of Europe's best beach destinations.
Whether you're the type of traveler who wants an energetic beach club atmosphere or a slow-paced, quiet escape with views of hillsides dotted with white-painted traditional houses, Greece's mainland and many islands have more than enough options to meet your needs. Iconic destinations include Crete with its ancient Minoan palace at Knossos, Mykonos with its sparkling waters and cuisine dedicated to fresh seafood plucked directly from them, and Santorini with its precipitous cliffs and mesmerizing sea-filled volcanic caldera.
But it's not all sand and sun in the birthplace of democracy; it's also ancient ruins and contemporary vibrant cities. History buffs can take in the expansive multi-thousand-year history of Greece with a stay in the capital of Athens. There, The Acropolis and its crowning jewel The Parthenon are visible from every corner of the city and are absolute must-see sights, while not far from those ancient temples travelers can delight in the energy of modern Athens and its eclectic shops, Mediterranean-focused restaurants and cafes, and quaint bars known as tavernas.
Where to Stay in Greece
Myconian Villa Collection
Mykonos
Andronis Arcadia
Santorinia
NJV Athens Plaza
Athens
The Nordics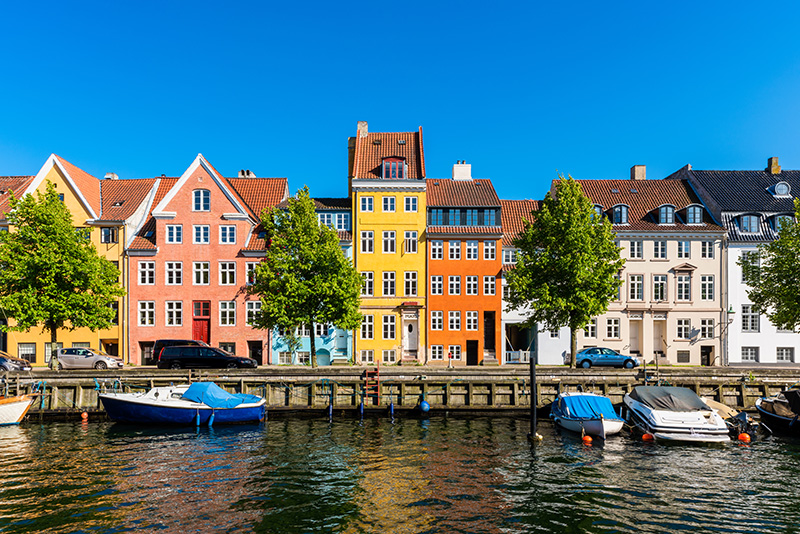 Turning our attention to Europe's far north, The Nordic countries of Norway, Sweden, Denmark, and Finland devote time and attention to the love of summer like no other place on the continent. Starting with Midsomer, the region's famed solstice festival celebrating the start of summer, these northern nations spend the rest of the warm-weather months experiencing everything their respective nations have to offer. And travelers to the region are encouraged to do the same whether they're staying in Stockholm, Oslo, or Helsinki.
Long days where the sun doesn't set until very late in the evening are typical, so travelers should be prepared to take full advantage of it. Take a trip to Oslo and experience Viking history before heading to the east coast for a ferry or car trip to the northern city of Tromso for the awesome wonder of the midnight sun. For the city-focused, visit Copenhagen, Stockholm, or Helsinki for a journey through Scandinavian and Finnish culture that prides itself on warm hospitality and a local cuisine where smorgasbords and open-faced sandwiches are ready to nourish after a day of scenic Fjord cruising, hiking, or strolling the cobbled streets of these world-class cities.
And finally, what's a visit to The Nordics without a look into the area's design industry that has brought the world everything from mid-century Scandi modernism to flat-pack Ikea furniture. Drop by a home goods or decor store and dare yourself not to come away with a spectacular souvenir.
Where to Stay in The Nordics
Villa Copenhagen
Copenhagen, Denmark
Klaus K Hotel
Helsinki, Finland
Amerikalinjen
Oslo, Norway
Hotel Diplomat
Stockholm, Sweden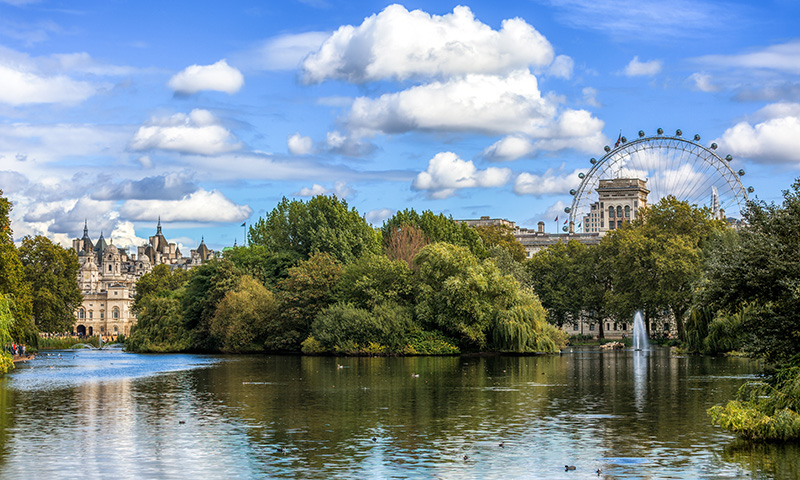 When it comes to the United Kingdom, there is almost no better time to visit than the long days of summer. Country estates shine amid lush green fields, while cities burst to life with locals and travelers soaking up the sun and setting out for warm-weather explorations.
Visit the capital city of London for a quintessential trip filled with British classics like lunches of fish and chips and afternoons spent forging deep into the past at The British Museum or the famed Tower of London. Walk across Millennium bridge for spectacular views of the Thames before seeing how the royals live with a tour of Buckingham Palace. For shopping, head to Oxford Street, after which you can satisfy your appetite with a traditional roast and pudding at a nearby pub.
Outside London, the English and Scottish countryside beckon with ancient towns, rolling green fields, quaint villages, and estate stays. Opt for a castle experience and sleep within the walls of historical strongholds or choose a more delicate place to rest in a former manor house fit for a duke or duchess. Whichever stay you prefer, be sure to spend a few days exploring the UK's splendid natural beauty from the Lake District to the Highlands and everywhere in between.
Where to Stay in the UK
The Stafford London
London, England
Haycock Manor
Wansford, England
Old Course Hotel, Golf Resort & Spa
St Albans, Scotland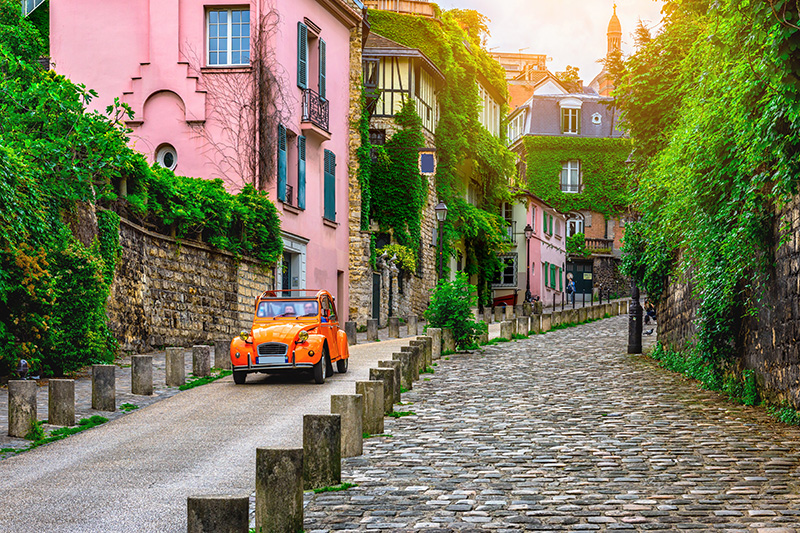 One of the world's most visited countries, France sees millions of travelers a year, yet never fails to spark the imagination and instill a sense of wonder in travelers – especially when it comes to its Parisian sights and coastal Mediterranean villages and cities. While the country is gorgeous any time of year, summer is when it truly shines.
Head to Paris for an in-depth exploration of French history, heritage, culture, and cuisine. Sip a café au lait streetside, enjoy a croissant, and stroll the rues of the various Arrondissements like the flaneurs of old. Visit the Louvre for a deep dive into art and catch a glimpse of the Mona Lisa before setting out for other must-see sights like Notre Dame and the Eiffel Tower.
For a more relaxed but no less sunny French excursion, journey to the country's south where fragrant fields of lavender lie just inland from the sparkling Cote d'Azur. Take a dip in the Mediterranean from the beaches of Nice, go cosmopolitan in the melting-pot of Marseilles, or escape from it all at the beachy town of Èze.
One caveat to traveling to France in summer: August is typically the month when the French take their vacations, meaning many shops, restaurants, and services are closed throughout this period. If you choose to visit during this time, it's best to do so with patience and grace – and always have a plan B in your itinerary in case the activity or attraction you want to see is closed for the day (or week...or month).
Where to Stay in France
Hotel Napoleon Paris
Paris
Hotel Barrier Le Gray D'Albion Cannes
Cannes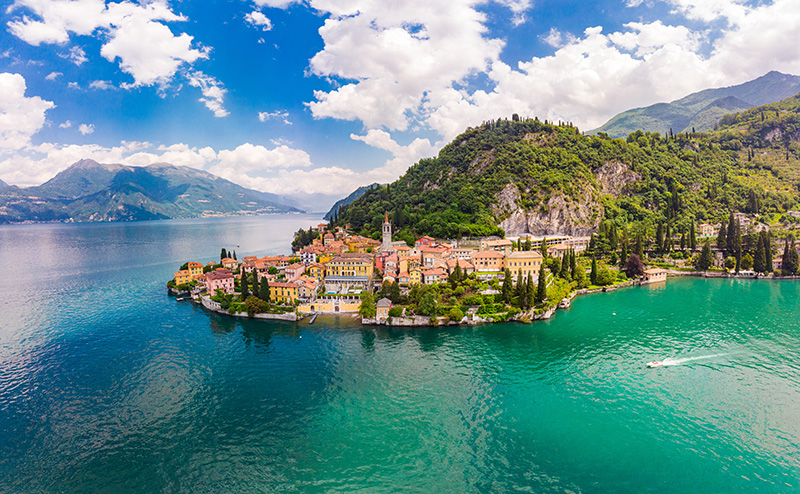 Italy's La dolce vita seems even sweeter in summer when the vineyards of Tuscany grow rich with a new grape harvest, the Piedmont's deep mountain lakes bustle with holidaymakers, and cliff-lined coasts shine under a bright Mediterranean sun. Add to all that several thousand years of history, a vast array of iconic artwork, and a culture that prides itself enjoying all the little things in life, and an Italian summer getaway becomes more magical by the minute.
That magic begins in Rome, the beating heart of the country where ancient monuments rub shoulders with modern trattorias and designer shops. Further north, Florence and Milan offer visitors a sub-alpine Italian experience focused on art like Michelangelo's David and fashion houses like Versace and Valentino. Venice, while also northern, captivates as the city on the water with its picturesque canals, campanili, and plazas. But to truly experience an Italian summer in all its glory, you have to get outside the urban environment and into the country.
From the infamously beautiful Lake Como to its lesser known, but no less stunning neighbor Lake Garda, to the rolling, golden hills of Tuscany, Italy's countryside is a landscape like no other. To see it intimately, rent a car and hit the country's single lane roads lined with towering cypress trees and wind past hilltop villages, vineyards, and villas, before spending the night at an amazing country estate hotel or lakeside resort.
Where to Stay in Italy
Metropole Hotel
Venice
Casa di Langa
Cerreto Langhe
Grand Hotel Tremezzo
Lake Como
Lefay Resort & SPA Lago di Garda
Lake Garda