Dining
Guests of The Michelangelo wishing to start their morning with an a la carte breakfast can do so in the hotel's Lobby Lounge, which also offers all-day dining and a stunning drinks menu for those seeking a moment of relaxation later in the day or evening. Italian architect Andrea Auletta designed this intimate and luxurious lounge with gold-leaf accents and silks and velvets in rich, warm hues.
World-class dining is only a short walk southwest of the hotel on famed Restaurant Row. Located on West 46th Street between 8th and 9th Avenues, Restaurant Row offers 16 of New York City's best restaurants. This area of Manhattan also offers two annual foodie events: the 9th Avenue Food Festival and Taste of Times Square.
Restaurants near The Michelangelo include the following:
The menu at FireBird Restaurant is French-influenced Russian while the décor, collectibles, and antiques on display are distinctly early 1900s Russian. Lunch is served Tuesday through Saturday. Dinner is served Tuesday through Sunday.
Founded in 1906, the historic Barbetta Restaurant is the oldest Italian restaurant in New York and a landmark establishment. Barbetta also features a country-estate-type garden for romantic summertime dining. Lunch and dinner is served Tuesday through Saturday.
For traditional French cuisine, a romantic French country atmosphere, and affordable dining in the Theatre District, visit Le Rivage Restauarant. This warm and cozy restaurant serves lunch and dinner daily.
Nearby Dining and Nightlife Distance from hotel: 1 | 5 | 10 | 20 | 30
PJ Clarke's
915 3rd Avenue
Approximately 1.42mi from hotel
Pacha
618 W. 46th Street
Approximately 1.17mi from hotel
Lupulo
835 Ave of the Americas
Approximately 1.23mi from hotel
ABC Kitchen
35 E. 18th Street
Approximately 2.08mi from hotel
Ippudo
65 4th Ave
Approximately 2.91mi from hotel
Papaya King
3 St. Marks Place
Approximately 2.93mi from hotel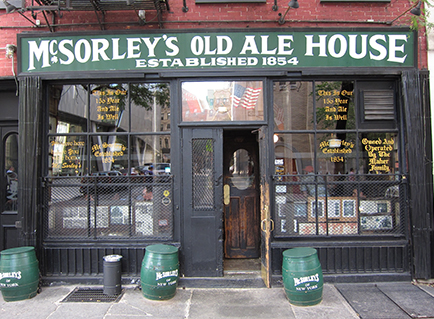 McSorley's Old Ale House
Approximately 3.19mi from hotel
Joe's Pizza
7 Carmine Street
Approximately 2.51mi from hotel
Wildair
142 Orchard St
Approximately 3.83mi from hotel
Output
Approximately 5.65mi from hotel
The Cecil
210 W 118th St
Approximately 4.5mi from hotel