Company Launches Global Initiative to Court Chinese Travel Market With Chinese Website, Dynamic Marketing Campaigns, Hotel Certification Program, and More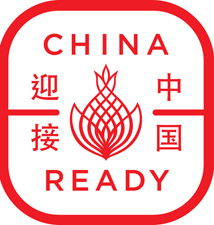 CHICAGO — December 5, 2013 — As Chinese travelers continue to gain momentum as the world's strongest outbound travel spenders, Preferred Hotel Group™ showcases its commitment to this key market with the launch of China Ready. This one-of-a-kind program will make the travel planning process more streamlined, personalized, and inviting for Chinese travelers and help the company's portfolio of 650 member hotels attract and retain this influx of business with the introduction of a simplified Chinese website (www.preferredhotelgroup.cn), dynamic marketing and social media campaigns, new distribution channels, and, for participating hotels, a bespoke certification initiative.
"Preferred Hotel Group is proud to declare its readiness for the Chinese traveler," said Ananya Narayan, Executive Vice President of Asia Pacific, Middle East, and Africa for Preferred Hotel Group, a global provider of sales, marketing, and distribution services to independent hotels. "China is a key focus market for our brands and for our hotels, and the launch of China Ready is designed both to support the country's outbound travel needs and to bring new exposure to our members in China and around the world."
Effective immediately, all of the company's 650 member hotels will be represented on Preferred Hotel Group's new Chinese website, which is hosted and managed in China. Addressing the unique needs of Chinese travelers, this dynamic site features attractive images, innovative booking functionalities, strategic search engine optimization, and a direct connection to the country's most popular social media platform, Sina Weibo, to facilitate impactful user engagement. The new site will complement Preferred Hotel Group's expanded connectivity to popular Chinese distribution channels, such as TravelSky, CTrip, and eLong, and will extend further benefits to travelers through Preferred Hotel Group's relationships with key marketing partners in the country.
To engage further with the market, Preferred Hotel Group also registered its Chinese brand names:
璞富腾酒店集团(Preferred Hotel Group)
璞富腾酒店及度假村 (Preferred Hotels® & Resorts)
璞富腾精品酒店(Preferred Boutique™)
尚美特酒店及度假村(Summit Hotels & Resorts™)
时登领酒店(Sterling Hotels™)
Member hotels looking for deeper engagement with Chinese travelers have the opportunity to join a dedicated China Ready marketing initiative. This program requires that participating hotels meet dozens of certification standards, ranging from on-property programming such as offering Chinese tea and kettles in guestrooms to having Mandarin-speaking reservations and front desk staff. Preferred Hotel Group supports the efforts of China Ready-certified hotels with additional tools, such as increased visibility on www.preferredhotelgroup.cn, direct engagement with travelers through Preferred Hotel Group's Sina Weibo page, and booking connectivity with key OTAs and China's global distribution service (GDS). Hotels that have already received China Ready certification include The Landmark (Bangkok, Thailand); The Charles Hotel (Cambridge, Massachusetts, USA); The K Club (Dublin, Ireland); and Hotel du Collectionneur Arc de Triomphe (Paris, France).
China Ready is the latest initiative from Preferred Hotel Group that showcases the company's commitment to the Chinese market. Over the past six months, the company has established a new sales office in Beijing to complement the efforts of its Shanghai office, and appointed Blaise Jing as Regional Director for Global Sales & Development for China. During this time period, Preferred Hotel Group also welcomed five new member hotels, bringing its total portfolio in the country to 18 properties.
About Preferred Hotel Group™
Preferred Hotel Group represents more than 650 of the finest hotels, resorts, and serviced residences in the world. Preferred Hotel Group's brands include Preferred Hotels® & Resorts, Summit Hotels & Resorts™, Sterling Hotels™, Summit Serviced Residences™, Sterling Design, and Preferred Boutique™. Travelers gain valuable benefits through branded programs iPrefer™, Preferred Family, Preferred Pride, Preferred Golf™, and Preferred Residences™. For more information, visit www.PreferredHotelGroup.com and follow the brand on Facebook and Twitter.
MEDIA CONTACTS:
Caroline Michaud
Director, Public Relations
Tel: +1 312 542 9218
cmichaud@preferredhotelgroup.com
Terri McCollin
Senior Manager, Public Relations — EMEA
Tel: +44 207 440 0316
tmccollin@preferredhotelgroup.com
Arlene Benger-Tan
Senior Manager, Public Relations — Asia Pacific
Tel: +65 6577 2487
abenger@preferredhotelgroup.com
For high resolution imagery of member hotels, please visit the Preferred Hotel Group Image Library at www.PreferredHotelGroupImages.com.