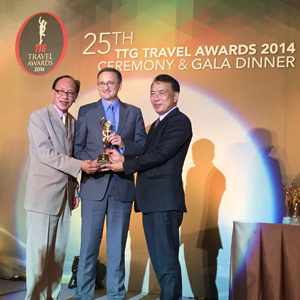 Wins "Best Hotel Representation Company" Category
SINGAPORE, 3 OCTOBER 2014 – Preferred Hotel Group, a family-owned company that provides sales, marketing, and distribution services to independent hotels and resorts around the world, has been named 'Best Hotel Representation Company' by the TTG Travel Awards for the third consecutive year.
"We are honored that our industry peers have again recognized Preferred Hotel Group as the "Best Hotel Representation Company," which is a testament to the dedication and professionalism of our talented associates who sit in Preferred Hotel Group's seven sales offices across Asia Pacific. We are committed more than ever to supporting our partners and look forward to many opportunities for successful collaboration in the year ahead," commented Anthony Ross, Executive Vice President of Asia Pacific, Middle East, and Africa for Preferred Hotel Group. "We express heartfelt appreciation to all those who voted for Preferred Hotel Group and sincere gratitude to TTG Asia for its continuous support."
TTG Travel Awards recognizes the very best of Asia Pacific's travel industry and is one of the most prestigious awards ceremony for the travel industry in the region. This year, 83 organizations and individuals were honored across four categories, with 150,000 votes cast by Asia Pacific's leading travel trade professionals for the various awards in each category. Mr. Ross and other members of the Preferred Hotel Group team were present to accept the award during the 25th TTG Travel Awards ceremony, which was held at Bangkok's Centara Grand and Bangkok Convention Centre at CentralWorld on Thursday, 2 October 2014.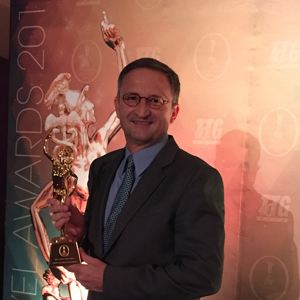 Preferred Hotel Group currently represents more than 110 independent hotels and resorts in Asia Pacific as part of its overall portfolio of more than 650 properties in 85 countries.
About the TTG Travel Awards
The TTG Travel Awards has been recognizing the best of Asia-Pacific's travel industry since 1989. This prestigious annual event honors stellar organizations and individuals in 4 categories: Travel Supplier, Travel Agency, Outstanding Achievement and Travel Hall of Fame. This TTG Travel Trade Publishing event is proudly sponsored by TTG Asia, with the support of TTG China, TTG India, TTGmice, TTG-BTmice China, TTGassociations and TTG Asia Luxury.
About Preferred Hotel Group™
Preferred Hotel Group represents more than 650 of the finest hotels, resorts, and serviced residences in the world. Preferred Hotel Group's brands include Preferred Hotels® & Resorts, Summit Hotels & Resorts™, Sterling Hotels™, Summit Serviced Residences™, Sterling Design, and Preferred Boutique™. Travelers gain valuable benefits through branded programs iPrefer™, Preferred Family, Preferred Pride, Preferred Golf™, and Preferred Residences™. For more information, visit www.PreferredHotelGroup.com and follow the brand on Facebook and Twitter.
MEDIA CONTACTS:
Caroline Michaud
Director, Public Relations
Tel: +1 312 542 9218
cmichaud@preferredhotelgroup.com
Terri McCollin
Senior Manager, Public Relations — EMEA
Tel: +44 207 440 0316
tmccollin@preferredhotelgroup.com
Arlene Benger-Tan
Senior Manager, Public Relations — Asia Pacific
Tel: +65 6577 2487
abenger@preferredhotelgroup.com
Silvia Meng
Senior Manager, Marketing & Public Relations — China
Tel: +86 10 6410 5378
smeng@preferredhotelgroup.com