Brazil is known for many offerings—unique cuisine options, electric nightlife, historic sights—but don't overlook the treasures along the coastline. Find coveted sandy beaches situated along major cities, national parks, and picturesque islands that offer scenic views, aquatic wildlife sightings, and snorkeling or diving excursions.
Ipanema
The revered sentiments of this beach destination were highlighted within the 1960s bossanova song, "The Girl from Ipanema." The relaxed, samba tune correlates with the relaxed atmosphere on the beach, a desired destination for sophisticated travelers. In addition to beachside bars, dining, and ample spots for sun, Ipanema is host to the Handcrafts & Art Fair each week. Not as family-friendly as other destinations, this beach is a cosmopolitan catwalk for Brazilians to showcase the latest fashions. Ilha Grande Moments spent on Ilha Grande allow for a true escape in a secluded rainforest alcove within the Mata Atlantica. An area historically frequented by pirates, this lagoon offers lush greenery, swinging hammocks, and trails through the jungle that you are free to explore. The island's most popular beach, Lopes Mendes, offers a space to lounge under the sun. The best part about Ilha Grande is, unlike many of Brazil's crowded beaches, the spaces are typically deserted in this tropical paradise.
Buzios
A classic high society destination, this chic slice of paradise was popularized in 1964, when famed French actress Brigitte Bardot visited, and soon after attracted the masses. Today, you can enjoy Buzios for its picture perfect setting and crystal clear waters. After a day at the beach, stroll over to the city's main street, Rua das Pedras, for a vibrant nightlife scene and world-class dining.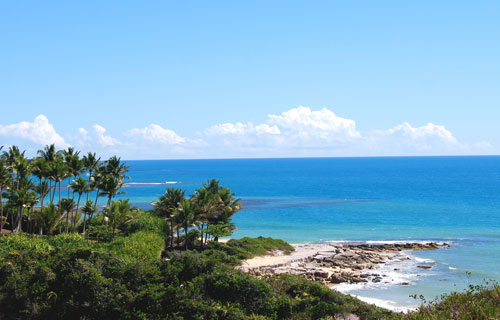 Photo credit: Cal Bailey
Espelho
At Espelho, delight in deserted settings and many options for beachfront dining, making an excellent opportunity for a sun-soaked day on the beach. The waters are warm, the water is clear, and it's an easy trip from nearby Porto Seguro, one of Brazil's coveted destinations. Beyond the crowded beaches Brazil has to offer, Espelho is truly a diamond in the rough.
Lençóis Maranhenses
A truly unique experience, Lençóis Maranhenses offers striking sand dunes dotted with lagoons. Visitors can hike through the sand and enjoy a dip in these pools, perfect for family travelers and adventurers alike. Existing within a national park, the lagoons are an beautiful sight like none other, showcasing a desert-like landscape that extends for miles. Enjoy the sight of aquatic wildlife and take a swim in these lagoons. Praia Taipús de Fora Situated within an enclave in the state of Bahia, this beach welcomes you to the Marau Peninsula, an area complete with waterfalls, paths, and much more to explore beyond the sandy beaches. Shallow pools and crystalline water offers perfect opportunities for families, as well as snorkelers, who will clearly view schools of fish and aquatic wildlife here.
Copacabana
At the Copa, Copacabana, a wealth of pop culture moments emerged, including that Barry Manilow song. It's no wonder why this beach is so beloved to both visitors and locals, with endless stretches of white sand and turquoise-colored waters. Gaze at the chic clubs and renowned hotels lining the beach, with a view Sugarloaf Mountain ahead. Frequented by surfers, sunbathers, and those looking to sip a caipirinha from one of the beach bars, Copacabana caters to all beach preferences.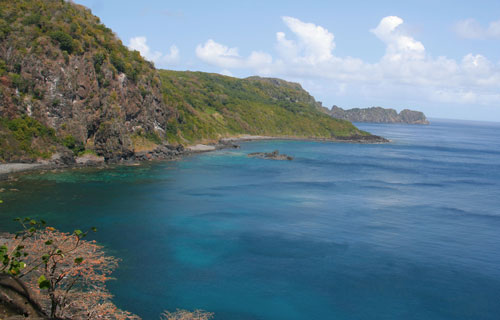 Praia de Pipa
Praia de Pipa, otherwise known as Dolphin's Bay, is the best place to watch the fun-loving creatures explore their natural habitat. Welcoming of visitors, these dolphins are known to do a flip or two for enchanted beachgoers. Beyond the sight of wildlife, the beach is surrounded by sweeping cliffs and forestry, with plenty of spaces for pure sunshine.