Fine Dining Near Central Park
Dining at the Park Lane Hotel comes with a complimentary side of breathtaking views. The luxury hotel's The Park Room restaurant features floor-to-ceiling windows overlooking lush Central Park. Diners can enjoy memorable dishes crafted by the hotel's talented Executive Chef, including steak and fresh seafood, at this classic Manhattan restaurant.
Harry's New York Bar & Lounge, named for famed real estate developer and philanthropist Harry Helmsley, also calls the Park Lane Hotel home. Commonly known as the "club of clubs," Harry's New York Bar & Lounge is a throwback to a golden era in the city's history and a timeless place to relax with friends or business colleagues. With rich wood fixtures and a classic oak bar, cocktails at Harry's New York Bar & Lounge are always perfectly mixed. The bar also serves lights snacks until late in the evening.
The Park Lane Hotel also is near many of the city's best restaurants featuring cuisine from premier chefs, including Chef Thomas Keller's award-winning Per Se, Betony from Executive Chef Bryce Shuman, and Daniel from Chef Daniel Boulud.
Nearby Dining and Nightlife Distance from hotel: 1 | 5 | 10 | 20 | 30
PJ Clarke's
915 3rd Avenue
Approximately 0.57mi from hotel
Pacha
618 W. 46th Street
Approximately 1.17mi from hotel
Lupulo
835 Ave of the Americas
Approximately 1.54mi from hotel
ABC Kitchen
35 E. 18th Street
Approximately 2.04mi from hotel
Ippudo
65 4th Ave
Approximately 2.48mi from hotel
Papaya King
3 St. Marks Place
Approximately 2.57mi from hotel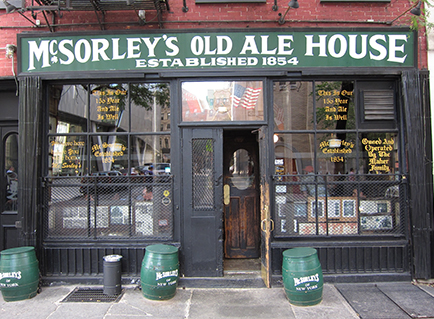 McSorley's Old Ale House
Approximately 2.62mi from hotel
Joe's Pizza
7 Carmine Street
Approximately 2.76mi from hotel
The Cecil
210 W 118th St
Approximately 2.99mi from hotel
Output
Approximately 3.1mi from hotel
Wildair
142 Orchard St
Approximately 3.22mi from hotel
Don't see what you expected? Suggest a new location.