Dining
Sip cocktails from Baccarat crystal and enjoy French fare at unique venues at the hotel featuring everything from a daily champagne presentation to a beautiful outdoor terrace.
Grand Salon – Grand is an ideal word for this stunning salon. Here, in the heart of the hotel, you can dine on morning pastries, afternoon tea, and French-inspired small plates, or sip champagne and craft cocktails under vaulted ceilings and a 64-arm Baccarat chandelier. The intimate seating nooks, Jouffre silk-covered walls, and dazzling décor make this a perfect place for socializing and toasting the good life.
The Bar – Take a seat at this luxury cocktail bar with an ambiance that mixes Old World glamour with modern panache. From the checkerboard floors and brilliant red Baccarat chandeliers to the wood and velvet merlot-colored walls, cozy fireplace, and outdoor terrace, you can enjoy top-shelf spirits and snack on small bites and desserts in high style.

Petit Salon – This luxe lounge exclusive to hotel guests after 4 p.m. is a smaller, more intimate version of the Grand Salon, with unique chandeliers, custom-made furniture, a Cognac bar, and menus featuring breakfast, lunch, dinner, coffees, and teas.
Nearby Dining and Nightlife Distance from hotel: 1 | 5 | 10 | 20 | 30
PJ Clarke's
915 3rd Avenue
Approximately 1.12mi from hotel
Pacha
618 W. 46th Street
Approximately 1.59mi from hotel
Lupulo
835 Ave of the Americas
Approximately 1.57mi from hotel
ABC Kitchen
35 E. 18th Street
Approximately 2.37mi from hotel
Ippudo
65 4th Ave
Approximately 3.21mi from hotel
Papaya King
3 St. Marks Place
Approximately 3.23mi from hotel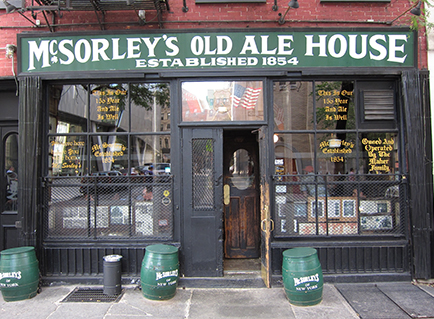 McSorley's Old Ale House
Approximately 3.29mi from hotel
Joe's Pizza
7 Carmine Street
Approximately 2.85mi from hotel
Output
Approximately 5.03mi from hotel
Wildair
142 Orchard St
Approximately 4.97mi from hotel
The Cecil
210 W 118th St
Approximately 4.21mi from hotel