Sip From Baccarat Crystal & Dine Under Chandeliers
Sip cocktails from Baccarat crystal and enjoy French fare at unique venues featuring everything from a daily champagne presentation (we have a thing for bubbly) to an outdoor terrace.
Grand Salon: Afternoon tea and French-inspired small plates served under vaulted ceilings and a 64-arm chandelier in a museum-meets-lounge atmosphere.
Morning pastries, light lunches, small plates, and full bar menu
Beverages — including bubbly awaiting at the entrance — poured in Baccarat crystal
Afternoon tea reservations required 24-hours in advance. Available Wednesday - Sunday
The Bar: Top-shelf spirits (many of which can't be found stateside) are done right at Manhattan's sexiest bar - seriously, it has won awards for its looks.
Sip stiff craft cocktails from the outdoor terrace. We love the killer fireplace
Snack on small bites like caviar sliders and lobster dumplings
Petit Salon: This guest-exclusive lounge is as blingy as it's big brother (home to three unique chandeliers and custom-made furniture), but smaller in stature for more intimate gatherings.
Exclusive breakfast menu, including continental breakfast, and shared lunch/dinner menu
Wines, cocktails, coffee, and teas available. Two words: cognac bar
Only hotel guests are allowed access after 4pm
Nearby Dining and Nightlife Distance from hotel: 1 | 5 | 10 | 20 | 30
PJ Clarke's
915 3rd Avenue
Approximately 1.12mi from hotel
Pacha
618 W. 46th Street
Approximately 1.59mi from hotel
Lupulo
835 Ave of the Americas
Approximately 1.57mi from hotel
ABC Kitchen
35 E. 18th Street
Approximately 2.37mi from hotel
Ippudo
65 4th Ave
Approximately 3.21mi from hotel
Papaya King
3 St. Marks Place
Approximately 3.23mi from hotel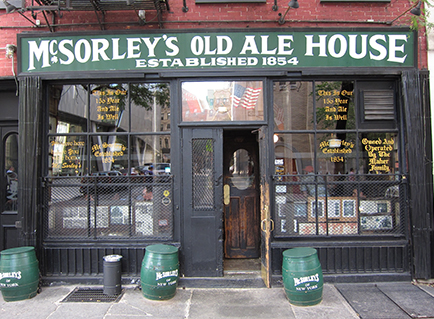 McSorley's Old Ale House
Approximately 3.29mi from hotel
Joe's Pizza
7 Carmine Street
Approximately 2.85mi from hotel
Output
Approximately 5.03mi from hotel
Wildair
142 Orchard St
Approximately 4.97mi from hotel
The Cecil
210 W 118th St
Approximately 4.21mi from hotel