Dining
The Sherry-Netherland boasts one of the most stylish yet informal restaurants near Central Park—Harry Cipriani. This New York City restaurant—almost a carbon copy of the original Harry's Bar in Venice—serves classic Venetian food and Cipriani's signature Bellini cocktail. Guests of The Sherry-Netherland may receive 20 percent savings on all food and beverage purchases during breakfast, lunch, or dinner. Harry Cipriani also provides room service to hotel guests.
Just a short 13-minute walk east of The Sherry-Netherland takes you to The Jeffery for craft beer, cocktails, and an espresso bar. The Jeffrey features a beer garden and 35-foot bar. Service is offered daily—morning, noon, and night. Food includes breakfast pastries, small plates, sandwiches, and oysters.
Over the past few years, trendier dining and drinking establishments have taken root in Manhattan's Upper East Side.
Nearby Dining and Nightlife Distance from hotel: 1 | 5 | 10 | 20 | 30
PJ Clarke's
915 3rd Avenue
Approximately 0.82mi from hotel
Pacha
618 W. 46th Street
Approximately 2.18mi from hotel
Lupulo
835 Ave of the Americas
Approximately 2.24mi from hotel
ABC Kitchen
35 E. 18th Street
Approximately 2.38mi from hotel
Ippudo
65 4th Ave
Approximately 3.21mi from hotel
Papaya King
3 St. Marks Place
Approximately 3.19mi from hotel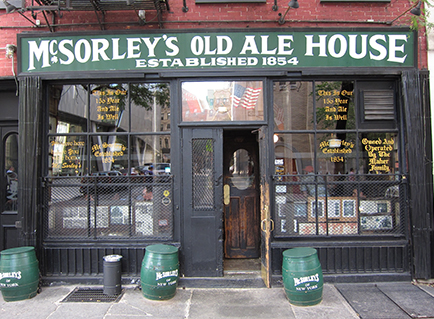 McSorley's Old Ale House
Approximately 3.18mi from hotel
Joe's Pizza
7 Carmine Street
Approximately 3.65mi from hotel
The Cecil
210 W 118th St
Approximately 3.58mi from hotel
Output
Approximately 4.73mi from hotel
Wildair
142 Orchard St
Approximately 3.82mi from hotel