Dining
Guests won't have to leave the hotel in order to get a delicious New York meal or specialty brew. Between the glamorous in-house restaurant and the take-out coffee bar, the unique flavors and intimate settings are sure to please any palette.
Harlow Restaurant: With a seafood-based menu rich with exotic flavors, Harlow is the perfect place to enjoy an elegant afternoon or evening of fine dining. Opt for the celebrated seafood pie in a buttery puff pastry or share oysters at the delicious full raw bar. The atmosphere is sure to entice guests into a mood of sophistication due to the stunning chandeliers and intricate moldings, providing a perfect blend of elegance and modernity.
Ninth Street Espresso: Start your day off with a delectable hand crafted espresso drink at the in-house Ninth Street Espresso. With a menu boasting seven traditional drinks, simplicity is key at this quaint coffee shop. Guests of the hotel may indulge in a complimentary drink and pastry each day of their stay.
Nearby Dining and Nightlife Distance from hotel: 1 | 5 | 10 | 20 | 30
PJ Clarke's
915 3rd Avenue
Approximately 0.19mi from hotel
Pacha
618 W. 46th Street
Approximately 1.42mi from hotel
Lupulo
835 Ave of the Americas
Approximately 1.49mi from hotel
ABC Kitchen
35 E. 18th Street
Approximately 1.89mi from hotel
Ippudo
65 4th Ave
Approximately 2.31mi from hotel
Papaya King
3 St. Marks Place
Approximately 2.38mi from hotel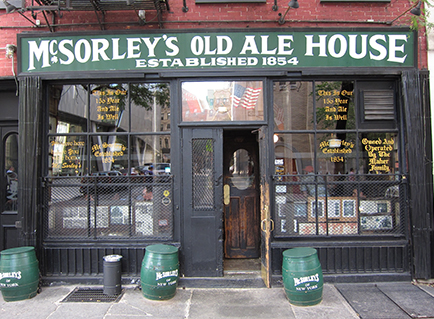 McSorley's Old Ale House
Approximately 2.43mi from hotel
Joe's Pizza
7 Carmine Street
Approximately 2.66mi from hotel
Output
Approximately 2.75mi from hotel
Wildair
142 Orchard St
Approximately 3.02mi from hotel
The Cecil
210 W 118th St
Approximately 3.18mi from hotel
Don't see what you expected? Suggest a new location.