Dining
Guests won't have to leave the hotel in order to get a delicious New York meal or specialty brew. Between the glamorous in-house restaurant and the take-out coffee bar, the unique flavors and intimate settings are sure to please any palette.
American Cut Midtown: A classic New York City steakhouse commandeered by Chef Marc Forgione, winner of season 3 of The Next Iron Chef, this is a venue that captures the romance and glamour of the city's past while serving in an atmosphere that is very much modern.
Ninth Street Espresso: Start your day off with a delectable hand crafted espresso drink at the in-house Ninth Street Espresso. With a menu boasting seven traditional drinks, simplicity is key at this quaint coffee shop. Guests of the hotel may indulge in a complimentary drink and pastry each day of their stay.
Nearby Dining and Nightlife Distance from hotel: 1 | 5 | 10 | 20 | 30
PJ Clarke's
915 3rd Avenue
Approximately 0.45mi from hotel
Pacha
618 W. 46th Street
Approximately 2.11mi from hotel
Lupulo
835 Ave of the Americas
Approximately 2.16mi from hotel
ABC Kitchen
35 E. 18th Street
Approximately 2.17mi from hotel
Ippudo
65 4th Ave
Approximately 2.84mi from hotel
Papaya King
3 St. Marks Place
Approximately 2.82mi from hotel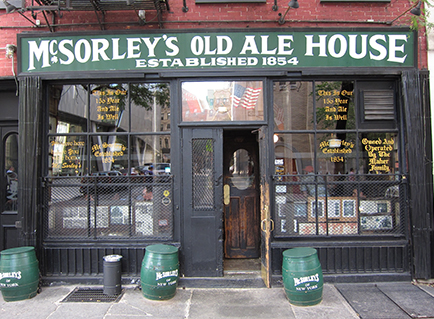 McSorley's Old Ale House
Approximately 2.81mi from hotel
Joe's Pizza
7 Carmine Street
Approximately 3.44mi from hotel
Output
Approximately 4.67mi from hotel
Wildair
142 Orchard St
Approximately 3.45mi from hotel
The Cecil
210 W 118th St
Approximately 4.02mi from hotel