Renowned Restaurant Dining in NYC
Má Pêche, located at Chambers Hotel, is part of the acclaimed restaurant group Momofuku. The restaurant serves French bistro–style food with Vietnamese flavors for breakfast, lunch, and dinner, and includes a Milk Bar for gourmet bakery treats. The restaurant's long tables promote communal eating and interacting with other guests.
Chambers Hotel's prime New York City location offers an abundance of high-end restaurants in walking distance.
Nearby Dining and Nightlife Distance from hotel: 1 | 5 | 10 | 20 | 30
PJ Clarke's
915 3rd Avenue
Approximately 0.75mi from hotel
Pacha
618 W. 46th Street
Approximately 1.83mi from hotel
Lupulo
835 Ave of the Americas
Approximately 1.88mi from hotel
ABC Kitchen
35 E. 18th Street
Approximately 2mi from hotel
Ippudo
65 4th Ave
Approximately 2.83mi from hotel
Papaya King
3 St. Marks Place
Approximately 2.85mi from hotel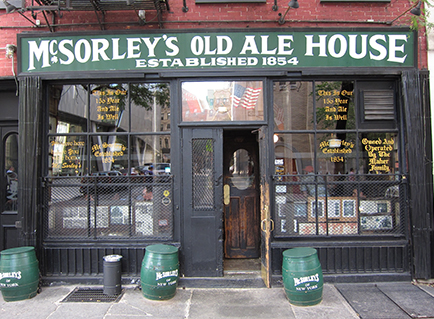 McSorley's Old Ale House
Approximately 3.11mi from hotel
Joe's Pizza
7 Carmine Street
Approximately 3.16mi from hotel
Output
Approximately 4.65mi from hotel
Wildair
142 Orchard St
Approximately 4.79mi from hotel
The Cecil
210 W 118th St
Approximately 3.83mi from hotel