An Ideal Location Near Barcelona's Passeig de Gracia
Hotel Murmuri
Rambla de Catalunya 104, Barcelona, -- 08008 ES
Hotel Murmuri is located in the Eixample district of Barcelona, Spain. The hotel sits on the Rambla de Catalunya, a pedestrian-friendly boulevard that runs through the heart of this fashionable district. The Rambla parallels the grand Passeig de Gracia, the city's most famous shopping destination. Guests are also within walking distance of many other points of interest, including striking buildings designed by the famous architect Antoni Gaudi.
The hotel allows easy access to public transportation. Passeig de Gracia and the intersecting Avinguda Diagonal (Diagonal Avenue) are major bus routes, and the Metro (subway) system's Diagonal station is just a two-minute walk from the hotel. The drive to Barcelona's El Prat Airport takes about 25 minutes.
Barcelona—El Prat Airport is 10 mi / 16 km from Hotel Murmuri.
Guests can take a taxi or rental car from the airport and arrive at the hotel in about 25 minutes. Other options include the Aerobus, Barcelona's airport express bus, leaves the airport approximately every 10-15 minutes. Hotel Murmuri guests can take the bus to Plaça de Catalunya, then change to the Metro (subway) and take the Green Line to the Diagonal station. The hotel is a 2-minute walk from the station.
The RENFE train leaves the airport every half hour. Hotel Murmuri guests can take the train to the Passeig de Gracia station, and then walk 10 minutes to the hotel. Another option is to change to the Metro at Passeig de Gracia and take the Green Line to the Diagonal station. The walk to the hotel from that station is just 2 minutes.
Nearby Transportation Options Distance from hotel: 10 | 15 | 25 | 50 | 75
Local Landmarks Distance from hotel: 5 | 10 | 20 | 30 | 50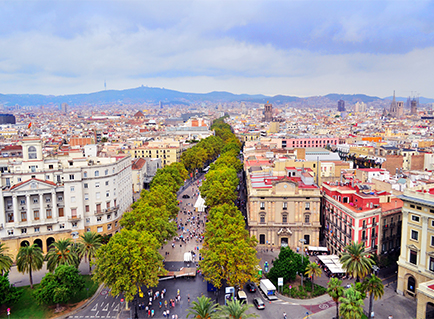 Las Ramblas
La Rambla, Ciutat Vella
Approximately 2.58mi from hotel
Park Güell
Carrer d'Olot
Approximately 1.97mi from hotel
Nearby Medical Centers Distance from hotel: 10 | 15 | 20 | 30 | 50
Hospital de Barcelona
Avenida. Diagonal, 660
Approximately 1.88mi from hotel